"To live is the rarest thing in the world. Most people exist, that is all."
Be curious. Dream big. Never stop learning. Choose happiness. Live a life worth living—every day.
We are Karma from Sweden and Scott from New Zealand. We are minimalist nomadic explorers with a passion for outdoor adventures. We have left the corporate rat race and choose to prioritize life differently. We focus more on what is happening right now because being present in the moment here and now is all that matters in the end. When we are not out on a long-distance hike or out exploring the trails and crags of the world, we are based in Sweden.
The epiphany that life is short – so you better make it count – has come as the result of a personal journey we like to call a life reboot. We share our reboot, nomadic lifestyle and passion for the backcountry as we are living our dream, and we hope to inspire you to go out and live your dream too!
Graphic designer, writer, blogger, translator
I can help you with content/editorial design and production as well as writing and translating content, blogging and social media management in Swedish and/or English (US). Also available for speaking engagements (female adventurer and solo long-distance hiker).
Let's talk!
One way for us to find peace and happiness in life has been to simplify things – a lot!
We have opted to leave stressful careers and lives filled with things to follow our dreams. We want to be able to look back on life without regrets and have stopped trying to fit in since we were obviously born to stand out.
We just want to live life—love deeply, explore new mountains, follow new trails and test our limits in the crags. We want to take our home on the road and discover new continents, experience new cultures and meet new people. In the end, we want to look back at life and smile.
We have a base in Sweden, a tiny 15 sqm cottage close to family where Karma grew up. While it is a very special place and a great place to come back to from time to time we don't feel bound to it. We chose to live a rather nomadic existence and have found that it suits us much better than a conventional life. We support ourselves on contract work as we go. Karma as a digital nomad designer/writer/translator, and Scott as a builder/painter/anything-tradesman.
We call ourselves minimalist nomadic explorers, but we really hate labels, so one could simply call it being alive—collecting experiences, not things.
Minimalism is basically cutting back on the crap and living a life with fewer possessions. Scaling back and simplifying is a very liberating feeling. You would be amazed to find out how few things you really need to be happy. We are not minimalist for the sake of minimalism, even though the concept is right in line with our values, but for us it just makes sense. Living in a tent or in a tiny house or small van—like we do—you simply cannot own too much stuff. Besides, it is an amazing feeling to be able to carry all you need to survive in the pack on your back when on trail, or to have your entire home with you on the road.
We think that more and more of us choose to live a life radically different to the way we are "supposed to" as a direct result of failing to thrive within the expected social norms. We really love vanlife and also choose to live out of a tent for long periods at a time. We just find the thought of not being location bound very appealing. It is about simplicity and freedom, a better life-work balance and ultimately about happiness.
Hunter S. Thompson said it best:
"Life should not be a journey to the grave with the intention of arriving safely in a pretty and well-preserved body, but rather to skid in broadside in a cloud of smoke, thoroughly used up, totally worn out, and loudly proclaiming, wow!"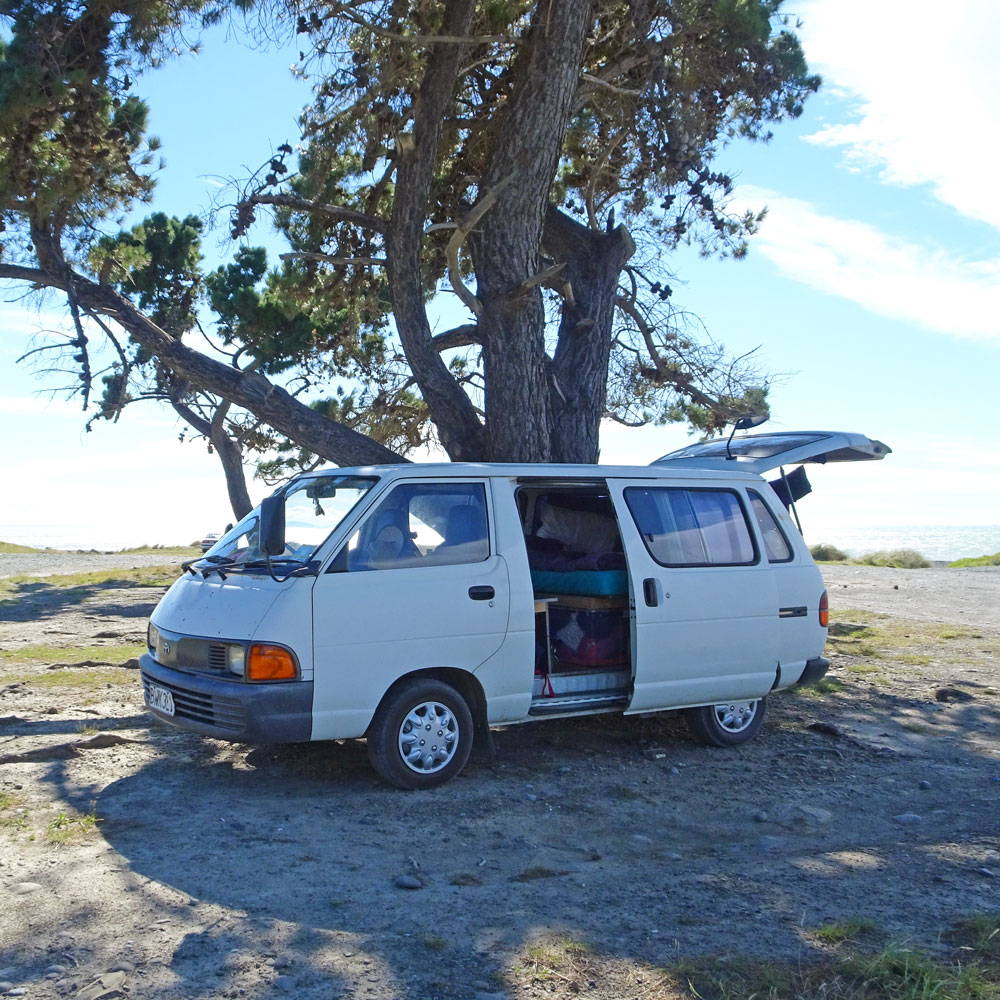 Nothing like a complete burn-out to help you put things into perspective a bit.
The past few years have brought about many changes in my life. I am not going to dwell on it too much, suffice to say that I left both a long-term relationship and a career behind and took an extended break from life. I needed a pause to reflect on how I ended up here and, above all, to ponder all the big questions in life.
Having my entire body pull on the breaks and declare that it is time to stop and smell the roses also made me reevaluate my priorities in life. After my burnout and subsequent reboot, I may be a few years older but ultimately stronger, happier, a whole lot wiser and in love. Coming back from this physical, emotional and mental crash has been an incredible journey and in retrospect, I feel grateful and would not change a thing!
Finding my bearings again all started with this crazy idea to do an orchid pilgrimage to the rainforests of Costa Rica. Fuelled by this newfound energy I caught the thru-hiking bug and was first inspired to do Kungsleden, a 500km trail by the arctic circle in Sweden, immediately followed by Te Araroa a 3000km tramp through the entire country of New Zealand… top to bottom. Next, the Skye Trail, a 128km unofficial route spanning the length of Isle of Skye in Scotland and most recently I thru-hiked the famous Pacific Crest Trail, a 4265 km hike from the Mexican to the Canadian border in the United States. Thru-hiking is quite addictive… you end up craving more.
In all this walking I also started down a path to finding a center within myself again.
I think it is true that nature heals, at least for me. My orchids and garden have always been a great source of recovery for me. The ability to make things grow and be a part of the natural process is quite meditative. Life on trail has become an amplifier to this. Being immersed in nature for long periods of time can heal even the most frazzled minds, like mine. Finding a partner to share this love of nature and adventure with is amazing! I feel very fortunate.