"Your time is limited, so don't waste it living someone else's life."
We would much rather take the leap into the unknown and risk failing than staying put and forever wonder what could have been.
British philosopher Alan Watts had some interesting observations about life. He proposed that thinking that life would have some serious purpose at the end is all a great big hoax. He meant that life is what is actually happening while we are struggling to find meaning to it all. So in order to be happy, we really ought to follow our heart and enjoy the moment instead of always striving to reach some elusive future goal. We think he was spot on. His observations are very much in line with the awakening stage in a reboot. That feeling of somehow having lost touch with life and the need to bring it back into the here and now. Because if you are not living fully in the present moment, no future plans will ever matter.
How did we ever get sold on the idea that quality of life somehow is about accumulating money and things?
We believe that life should be about living the dream, not dreaming about living. In other words, creating a life we don't need a vacation from. How that life manifests itself is different for everyone of course, but no matter how you choose to live your life, just make sure it is a conscious choice.
Alan Watts:
"We thought of life by analogy with a journey, with a pilgrimage, which had a serious purpose at the end. But we missed the point the whole way along. It was a musical thing, and you were supposed to sing, or to dance, while the music was being played." [ listen ]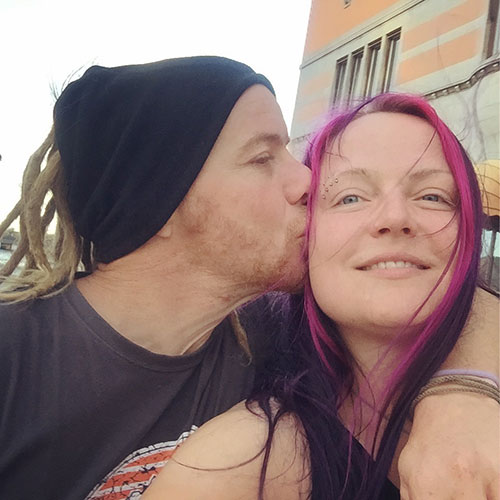 Climbing, hiking and long-distance thru-hiking
For us, it is ultimately about freedom and adventure, but being outdoors is also a form of meditation, inspiration, and nourishment for body and soul.
We find that time in nature is a great way to silence the mind allowing time for some reflection and contemplation and even though it is a highly physical activity (we tend to walk really far or climb mountains) we come out with more energy than we had going in. This connection with nature is a very special feeling and we love it! Living immersed in it for long periods, like you do on a long-distance hike, is amazing. It helps you keep a perspective on life, by feeling small and insignificant at the same time as you feel a part of something magical and grand.
There is actually a lot of evidence to back this up. Serotonin and dopamine are the "happy" chemicals in our brain. Exercise increases the brain's ability to produce and make use of these chemicals. Exercise in nature ups the ante even further. So in short, hiking makes you happier, not only because it brings you to awe-inspiring places, it is biology!
Studies have also shown that just spending time in nature can provide a multitude of restorative effects on the body such as reducing stress, reducing blood pressure, increasing creative problem-solving performance, boosting the immune system, preliminary studies even suggest that spending time in nature stimulates the production of anti-cancer proteins – and the list goes on!
Bottom line, being outdoors exploring and pushing the boundaries of our limits makes us feel healthier, happier and truly alive.
This may seem like a lot of gear (and it is, especially for minimalists, lol), but different types of adventures, seasons and objectives require different constellations of gear. We find it interesting and helpful to see what kind of gear people pack when we do research, so we figured we would return the favor. You will see that we are huge merino wool fans and Karma is a bit of a technology geek. We are not ultra-light proponents either, but always endeavor to strike the perfect balance between weight, comfort, and safety.
| PACKING | INFO | SIZE | GRAMS |
| --- | --- | --- | --- |
| backpack: Osprey Aura AG 65 | | 62L | 1900g |
| backpack: Osprey Atmos AG 65 | | 65L | 2190g |
| backpack: Osprey Aura | | 35L | 1300g |
| flight bags: Osprey Airporter | x2 | M | 450g |
| rain cover: Osprey hi-vis | | | 112g |
| waterproof pack bags: Sea to Summit/ Osprey | | Misc | |
| compression dry sacks: Sea to Summit UltraSil eVent | Sleeping bags | | 90g |
| SLEEPING | INFO | SIZE | GRAMS |
| --- | --- | --- | --- |
| tent: Hilleberg Niak | 3-season | solo | 1700g |
| tent: Hilleberg Rogen | 3-season | 2-pers | 2100g |
| tent footprints: Hilleberg | Niak/ Rogen | | 250g/ 255g |
| hammock: Warbonnet Blackbird | | XLC | 807g |
| tarp: Warbonnet Superfly | 4-season | | 538g |
| inflatable mats: Therm-a-Rest Neoair XLite | summer | L | 460g |
| inflatable mats: Therm-a-Rest Neoair XTherm | 4-season | L max | 652g |
| closed-cell mat: Therm-a-Rest Z-Lite | | 2/3 length | 295g |
| sleeping bag: Western Mountaineering Caribou | summer down (+2C) | mummy (wide) | 595g |
| sleeping bag: Western Mountaineering Alpinlite | 3-season down (-7C) | mummy (wide) | 880g |
| sleeping bag: Western Mountaineering TerraLite | 3-season down (-4C) | semi-rectangular | 510g |
| liner: Cocoon | merino wool | | 600g |
| liner: Sea to Summit, reactor | thermolite | | 255g |
| liner: Sea to Summit, | rip-stop silk | | 165g |
| COOKING | INFO | SIZE | GRAMS |
| --- | --- | --- | --- |
| Primus express | gas cooker | | 98g |
| Primus PrimeTech | non-stick pot | 1L | 282g |
| Primus LiTech | frying pan | 21 cm | 267g |
| Evernew ECA-402 | non-stic titanium pot | 0.9L | 102g |
| Evernew ECA-402 | frying pan/ lid | | 38g |
| sporks | titanium (x2) | | 20g |
| long spoon | titanium | | 19g |
| whisk | stainless | | 12g |
| dish scraper | rubber | | 14g |
| Wildo vikkåsa | folding cup (x2) | 0.25L | 25g |
| Wildo vikkåsa | folding cup (x2) | 0.6L | 46g |
| WATER | INFO | SIZE | GRAMS |
| --- | --- | --- | --- |
| Sawyer Squeeze | filter | | 77g |
| Sawyer Mini | filter (in-line) | | 56g |
| Platypus Hoser | hydration bladder | 2L | 102g |
| Platypus Hoser | hydration bladder | 3L | 120g |
| Evernew | "dirty" water sack (filter) | 2L | 42g |
| MSR Dromlite | water sack | 6L | 162g |
| Klean Kanteen Classic | stainless bottle | 0.8L | 174g |
| Light & Compact | thermos | 0.5L | 362g |
| TOOLS & MISC | INFO | SIZE | GRAMS |
| --- | --- | --- | --- |
| Black Diamond W's Trail Pro | trekking poles | | 490g |
| Leatherman Juice | multi-tool | | 159g |
| Leatherman Style CS | multi-tool | | 41g |
| DEEJO Naked | pocket knife | | 15g |
| repair kit | | | |
| duct tape | | | |
| rope | | | |
| first aid kit | | | |
| emergency bivvy | mylar | | |
| fire | lighter, storm matches, fire steel | | |
| Silva Trekker | compass | | 34g |
| Sea to Summit map case | | | 56g |
| Sea to Summit mosquito head net | | | 12g |
| Therm-a-Rest Z-seat | seating pad (half) | | 30g |
| MSR dew rag | | | 20g |
| LIGHT | INFO | SIZE | GRAMS |
| --- | --- | --- | --- |
| LED Lenser SEO 7R | headlamp | 220ln | 93g |
| Petzl E Lite Classic | headlamp | 26ln | 27g |
| Black Diamond – orbit | lantern | | 84g |
| CAMERAS | INFO | SIZE | GRAMS |
| --- | --- | --- | --- |
| Nikon D-7000 | DSLR | | |
| Sony CyberShot HX90V | compact | | 242g |
| Sony CyberShot DSC-R00 III | compact | | 263g |
| memory cards | | 128GB | |
| batteries | | | |
| Lowepro Apex 30 AW | camera case (compact) | | 100g |
| Lowepro Flipside 200 | camera backpack (DSLR) | | |
| Gorillapod mini | tripod | | 36g |
| Gorillapod smartphone grip | | | 16g |
| iPhone 6 | | | 143g |
| Røde VideoMic Me | microphone | | 46g |
| COMMUNICATION, ENERTAINMENT & POWER | INFO | SIZE | GRAMS |
| --- | --- | --- | --- |
| iPhone 6 | smartphone | | 143g |
| Lifeproof | waterproof case (iPhone 6) | | 42g |
| Kindle Paperwhite | e-reader | | 358g |
| E-case | waterproof case (Kindle) | | 50g |
| Ocean Signal rescueME PLB1 | PLB | | 116g |
| Apple usb power supply | w/travel adapters | | 74g |
| Plugable | usb-hub | | 32g |
| GP powerbank | 12000 mAh | | 259g |
| Anker PowerCore | 20000 mAh | | 354g |
| Anker PowerCore | 13000 mAh | | 240g |
| Anker 15W | Dual USB Solar Charger | | 354g |
| Ultimate Ears Roll 2 | bluetooth speaker | | 330g |
| APPS | INFO | SIZE | GRAMS |
| --- | --- | --- | --- |
| ViewRanger | navigation | | |
| Guthook Guides | Te Araroa Hiker, PCT guide | | |
| Calazo Kartor | maps for Sweden | | |
| DayOne Journal | journalling | | |
| Spotify | music | | |
| Audiobooks | entertainment | | |
| iCloud Drive | productivity | | |
| Google Drive | productivity | | |
| Google Docs | productivity | | |
| PlayMemories (Sony) | media | | |
| Messenger | communication | | |
| iBooks | entertainment | | |
| Instagram | social media | | |
| Twitter | social media | | |
| Facebook | social media | | |
| YouTube | social media | | |
| PERSONAL | INFO | SIZE | GRAMS |
| --- | --- | --- | --- |
| valuables | passport, tickets, travel papers | | |
| glasses/ contacts | | | |
| PackTowl microfibre towels | | S/ L | 22g/ 86g |
| toiletries | | | |
| The Deuce of Spades | potty trowel | | 17g |
| travel pharmacy | | | |
| ear plugs | | | |
| sun screen | | | |
| bug repellant | | | |
| e-books | Kindle | | |
| audio books | iPhone | | |
| music | iPhone = Spotify | | |
| CLIMBING & MOUNTAINEERING | INFO | SIZE | GRAMS |
| --- | --- | --- | --- |
| Black Diamond FreeWire | quickdraws, 12 cm | | |
| Black Diamond, 7.8 mm half/twin fulldry | 30m rope | | 1230g |
| Black Diamond, 9.9mm single | 60m rope | | 3840g |
| Black Diamond w's Primrose | harness | | 328g |
| Black Diamond ATC belay | | | 66g |
| Black Diamond RockLock | screwgate carabiner | | 84g |
| Black Diamond chalk bag | | | |
| Five Ten Rogue w | climbing shoes | | 406g |
| Black Diamond Vapor | helmet | | 199g |
| Black Diamond Sabretooth clip | crampons | | 910g |
| Black Diamond Swift | ice axe | | |
| CLOTHES ( Karma ) | INFO | SIZE | GRAMS |
| --- | --- | --- | --- |
| FEET | | | |
| Lundhags Mira Mid light | hiking boots, leather shell | | 1200g |
| Salomon XA Pro 3D GTX W | trailrunners | | 788g |
| Teva Tirra | sandals | | 468g |
| Superfeet insoles | green/ orange | | 96g |
| BASE LAYER (MERINO) | | | |
| briefs: Aclima | | | 46g |
| boxers: Peak Performance | | | 68g |
| sports bra: Icebreaker, rush | | | 108g |
| sports bra: Kari Traa, driva | | | 106g |
| socks: Bola, Icebreaker, Smartwool | | | Misc |
| waterproof socks: Sealskinz | | | 145g |
| tank top: Smartwool | | | 92g |
| t-shirts: Icebreaker, Smartwool | | | 115g |
| thermal shirt, long sleeve crew: Ortovox | | | 236g |
| thermal shirt, long sleeve half-zip: Kari Traa | thin | | 208g |
| thermal shirt, long sleeve hoodie : Aclima WW | thick/ winter | | 352g |
| thermal pants: Kari Traa | thin | | 182g |
| thermal pants: Aclima WW | thick/ winter | | 226g |
| MID LAYER | | | |
| Ortovox RNW Cool Shirt | long sleeve shirt, (merino/tencel) | | 236g |
| Icebreaker hoodie | merino wool | | 486g |
| Norrøna Falketind PrimaLoft 100 hoody | insulated jacket/puffy | | 396g |
| OUTER/ REINFORCEMENT LAYER | | | |
| Fjällräven Abisko Trekking Tights 3/4 | | | 254g |
| Fjällräven Keb Gaiter | zip-off | | 658g |
| Icebreaker shorts | merino/ polyester | | 112g |
| Mountain Equipment Ogre | shell/ rain jacket | | 390g |
| Mountain Equipment Odyssey | shell/rain pants, full zip | | 295g |
| ACCESSORIES | | | |
| swimsuit/bikini | | | |
| sarong | | | |
| Craft sun visor | | | 36g |
| Redbull Racing sunglasses | | | 26g |
| Icebreaker head band | merino wool | | |
| Beanie | merino wool | | |
| Aclima liner gloves | merino wool | | 18g |
| Sealskinz gloves | wind/ waterproof | | 100g |
| Hestra mitts | wind/ waterproof shell | | 128g |
| Buff | merino wool | | 48g |
| Dirty Girl | spandex gaiters | | 30g |
| Rab latok | alpine gaiters | | 238g |
Packing lists from previous missions