"Your time is limited, so don't waste it living someone else's life."
A life worth living.
We believe that life should be about living the dream, not dreaming about living. We seek to live simpler, to consume less and focus on what really matters. For us, it means living as sustainably as possible in a way that does not require trading too much of our time for money while doing the things we love. We love hiking, running and climbing mountains. We find that time in nature is a great way to silence the mind allowing time for some reflection and contemplation—and it is about freedom. The longer time out disconnected from society the better. One reason we are really passionate about long-distance thru-hiking.
Long-distance hiking & thru-hiking
Thru-hiking simply means continuously hiking a long-distance trail from end to end.
Hiking a long-distance trail demands focus and determination. While it is a lot of hard work we feel that it gives us a better perspective on life in return. It is a form of active meditation, and for us, there is no better way to achieve mindfulness. You fall into a meditative rhythm where life becomes simpler. Your job is to eat, sleep, walk—repeat. For months! There is a bit more minimalistic approach to gear and more focus on distance when you are out on really long trails. Mainly because you value traveling light, but you soon realize how few things you actually need. Long-distance hiking differs from "regular" hiking in the sense that while it is still a great physical achievement, it is more a mental and logistical game.
Some of our favorite gear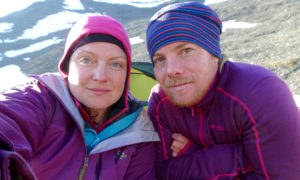 Ultrarunning
What is my potential? What am I capable of? How can I answer these questions for myself in the simplest way?
These were the questions Scott was asking himself, coming back from injury. Follow his journey back.
Well, I have a plan! Run, run, run and when I cannot run anymore just keep running. Easy to say. Not so easy to do, and therein lies the challenge.
Expressions like "its not the destination its the journey" and "I wouldn't change a thing because it makes me who I am today", while clichés, I believe there is truth in them. I believe the journey through hardship, pain, commitment, determination, self-motivation, goals, and finally achievement answer these questions of who I am and what I am made of. This excites me and the fear of failure drives me. So why ultrarunning? Well, you get fit, live a healthy routine, surround yourself with amazing like-minded people and inevitably feel better in mind, body, and spirit.
But what I really want to know is: can I do it?
Races
Gotland Ultra Marathon
Gotland, Sweden
Saturday, October 5, 2019
Distance: 50 km
What can I say? It is 50 km of running around the largest island in Sweden. The race starts at Hallshuk and runs along fantastic coastal scenery into Visby. Other than that, I have no idea of the course terrain, elevation or weather. What I do know is that this is my first official ultra. So how do I get from where I am today to be able to run 50k? And I don't mean to just finish – I mean to run it well and enjoy it. Little steps, lots of little steps, that will eventually add up and turn me into an ultra runner.
Step one: RUN.
Step two: Eat well and drink water.
Step three: Run some more.
Instagram Journal