WHERE: Stage 2: Ammarnäs to Jäckvik – Kungsleden, Sweden
WHEN: August 7-12, 2016
WHO: Karma & Helena
OBJECTIVE: Thru-hike, #rebootatforty
DISTANCE: 87,5 km (completed: 166,5 km in total)
This section is one of the least popular on Kungsleden. Perhaps this is due to the lack of infrastructure like huts, but since we are self sufficient this does not affect us that much. On the contrary. It was really nice to have the trail to ourselves. On most days we did not meet more than one or two hikers. Still, I can see why this is less popular to hike. While the views along the route are intermittently impressive, the section consists more of wild forests than majestic mountainous fell. It is also a pretty demanding stretch due to the hilly nature, the trail constantly moving up and down between river valleys and and the highland plateaus in between. Looking back this was my least favorite part of Kungsleden over all. We did have pretty bad weather on this stage though, lots of rain and cold temperatures, which might have influenced my overall impression. Still, this is a thru-hike after all so you have to take the good and the bad. But I am happy we are walking nobo, because then we will do this (and the next) section early, saving the best for last.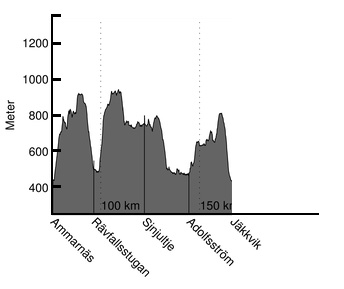 Kungsleden thru-hike + Sarek travel diary
We had gotten to bed rather late last night and since we faced a pretty short stage we enjoyed a lazy morning and hit the trail by noon. I felt strong despite the heavier pack, guess my body is getting used to carrying the weight. Cool!
The thing about valleys are that you inevitably have to climb back up the mountain again, and all morning was spent doing just that. Climbing. Nice conifer forests at first, then birch and finally we were above the tree line again. We are still on lower altitude highlands, so mainly rolling moors but at least you can see for miles. I just love it up here, you can breathe!
We decided to split up this stage differently than the guidebook suggests since we are not dependant on the huts for shelter. Instead we plan to do around 15 km per day, a distance that seem to suit us well. The lake we had chosen as our campsite today was supposed to have a fresh flowing tributary according to the map, but in reality it was dry. In fact, many small lakes and streams were dry up here. This lake had also started drying up and it just did not feel right. So we pressed on to the next lake about a kilometer further up the trail. This turned out to be a beautiful spot with a pristine small lake, 180 degree views and soft ground to sleep on. Sweet!
The sun was setting as we set up camp but as soon the sun ducked behind a cloud temperature dropped significantly. So we called it a night and ate dinner in our respective tents. I was eating and reading. Outlander… such a good book! Can't wait to finish writing so I can go back to reading!
It rained hard all night. I woke many times due to the noise and high wind. Miraculously the rain stopped just as we got up and then we had decent weather for most of the day, just some clouds. We really had picked a beautiful campsite. It was rather magical seeing the morning come rolling out of the valleys below.
The first part of the hike today was fairly easy along a ridge with scenic rolling moors, but I was in a bit of a funk. Not sure why. After a rather wet and muddy descent down to Rävfallsstugan, a pretty nice unmanned rest hut, we stopped for lunch. We had about 7 km left to go to the planned campsite for the day, but somehow we got sidetracked and had to double back, adding another 2,5 km to an already long day. Sigh. Once back on the trail waited the most demanding climb so far, up Nulppa. The trail was narrow, muddy and partially very steep. A very sweaty climb but we finally made it, tired but pleased.
We had two possible campsite options in mind, at bridge two or three on the highland moor. By the time we got to bridge two it was really windy and raining hard! Once again having made the wrong decision about rain gear, we were already soaked, so we decided to hike the additional 3 km to the next bridge and hope the rain would stop by the time we got there. It did not. In fact, I think it got worse!
I am a faster hiker than my friend, so hiked on ahead. Actually we do this most of the time. I hike on for a while, then wait. We are hiking our own hikes, but together… works pretty well actually. I get us going and she gets us pausing. A little hard to wait in this kind of weather though. As soon as I stopped I was freezing. So I either had to keep on moving or stop to put more clothes on, and it is hard to do that when it is raining so hard. My kingdom for rain pants with full zip! In the meantime I dream of fashioning a rain skirt. I actually got a huge trash bag in Ammarnäs and was planning on using that as a makeshift skirt, but I did not put it on because my pants were already soaked from the knee down from walking through the wet vegetation up Nulppa. I reasoned that the pants could not get much wetter. I was way wrong. I learned something today: You can always get more wet, even when you think you are already thoroughly soaked!
By the time I got to the intended campsite I was soaked through to the bone. The jacket kept my upper body somewhat dry (aside from sweat) but otherwise I am soaked… boots are wet too, partially due to the poorly maintained trail with few or crappy footbridges over the wetlands. My brain was not quite in gear all day either which did not help. Rough day!
So this was the first camp pitch in a full on rainstorm. Good thing I had thought this process through ahead of time as it is tricky business with a very small solo tent. It went like this: Pack down rain cover facing up while quickly pitching the tent. This is one of the biggest benefits with Hilleberg tents, you pitch inner and outer tent simultaneously, so the inner stays dry. The other is ease of use, I can pitch my Soulo in under 3 minutes, even in high winds. Still, I had to get my wet self and all the wet gear inside and get organized without getting the inner tent soaking wet. First I tossed the pack into the small vestibule. Next I unhooked half of the inner tent to make room for myself too in the tiny vestibule. I duck in and close the door then all my wet clothes off. Next, get organized. First unpacking the backpack by tossing all the dry gear into the dry zone, the inner tent. Then hooking the inner tent back up again and sliding in, leaving the wet gear in the vestibule with the backpack. A footprint during this maneuver is really required. Worked well!
After cooking a hot meal in the vestibule I am now tucked in and will read for a while before going to sleep. I boiled some water for the Nalgene bottle and have been alternating boots back and forth all evening trying to aid the drying process but I am not optimistic. I am waiting for a break in the rain before I dash out to brush teeth and do a bathroom run. Fingers crossed.
Song of the day: Flicka med guld by Thåström… to match my melancholy mood today I guess.
Woke to a wet tent. Damn… there were huge droplets of condensation hanging from the ceiling. Clothes hanging to dry were if possibly worse than the night before. Gear left in the vestibule was wet from condensation too. It is clear I cannot try to dry things in the inner tent anymore now that temperatures at night have dropped, it creates too much condensation. Complicated…
The main problem though is the sleeping bag. It has been getting wet from condensation by the foot end mainly from touching the wall. But as it has been getting colder at night the condensation issues are getting worse and the bag, being filled with down, is especially vulnerable to this. Unusually I can get it dry while packing by just airing it out, but chances of that today seemed bleak. It had finally stopped raining though I tried to hang my soaking wet socks and pants from under the bridge to dry, thinking the wind would help, but no dice. It was just too humid and cold. So today I hike in rain pants and Sealskinz socks as the boots are still dripping wet despite the water bottle routine! Sucks putting on wet clothes and packing up wet gear, but there is nothing to be done about it.
We had a 17 km hike today starting out in the highlands, then descending down into a valley. We walked in a constant drizzle pretty much all day. Not enough to really get you soaking wet, but it was really cold and windy too. I wore my gloves for the first time and kind of wished I had one more layer to put on. I don't want to use my camp clothes (thermal pants/hoodie) for walking since I don't want t0 risk not having dry clothes to change into at night. Super hard to balance needs vs weight of gear when planning hikes. I had pulled a wool jacket and thin long sleeve thermal merino wool shirt from my original packing list to save weight. Now perhaps I have to buy something along the way to make up for this mistake. Sucks when you have it at home already. A bouncebox for these kind of items would have been nice, difficult logistically on this hike though.
I guess four words could sum up the stage today… drizzle, eskers, wetlands and headwind – not a highlight of this thru-hike so far. Completed our first wade today too… boots off and trail runners on, then into the cold water. There will be plenty more to come further north, especially in Sarek.
We had our sights set on camping by a small emergency shelter in Sjnulttjie. Not sure weather it would still be there or not. On the map it was just marked as a lean-to wind shelter and the guidebook said it burned down in 2005, but we met a Frenchman on the trail midday and he confirmed it was back up. Nice! We are in desperate need of drying some gear. There were already three other hikers seeking refuge in the shelter when we got there and a fire was already going. Perfect! They were all heading south and two of them had only stopped to make food before heading on but the third, a young girl from Belgium, also planned to stay. We unpacked the wet gear and hung it up to dry and settled in for the night. These shelters are only meant to be used over night in emergencies, and perhaps we were stretching the concept a little, but a wet down sleeping bag does not keep you warm, so I needed to at least get that dry before continuing on. Well, that would take a while, so I guess we were staying too.
Woke to a cool cabin but we had kept the fire going long enough last night for everything to dry. Cannot underestimate the feeling of having dry gear again. Boots were still a bit damp though, despite us taking turns putting hot rocks in them last night, but they are much better at least. Opened the door and peaked outside and the sun was shining. Nice! Feeling much better today, brain is back in gear!
Our 18-year-old Belgian roommate was very nice, but talked non-stop! An Oscar Wilde quote comes to mind… "I am not young enough to know everything" … yeah… She took off while we packed up leaving us to bring in more wood to replace what we had burned last night and to clean the place. Oh well. We would have done it anyway.
Since the boots were not quite dry yet we walked with Sealskinz on until lunch, then switched to wool to let the body heat dry out the rest. This method works pretty well actually. Sunny today but windy, and it is a very cold wind from the north. It is clear that the season is changing… we are walking into fall now. We are both feeling a little cold today, hard to regulate temperature when sun is hot but the wind is cold. I miss my thick wool jacket but don't miss carrying the weight. Still, I think I will need to buy another layer before we head into Sarek. Need to work out what to get though, a light fleece or another long sleeve merino wool thermal sweater? Kind of frustrating… I have what I need at home but it is too complicated to send it up here.
Late afternoon we came up on Bäverholmen. There is a restaurant catering mainly to people fishing the rivers and lakes nearby, but I am sure they see their fair share of hikers too. My friend was jonesing for coffee and I really wanted a hot chocolate. I have been dreaming of it for days… so we both ordered a waffle (despite the gluten) and some hot drinks. Seeing my disappointment over the instant hot chocolate on the menu, she lady of the inn whispered she could make me the real deal with coco, sugar and cream. Wow! What service! We both got a beer to go too. Felt kind of weird with a beer can tucked into the water bottle holder in the pack… but I am sure it will be good tonight!
As we were leaving Bäverholmen another hiker came in. He waived to us as we were getting our packs on so we walked over to say hello. A charming Aussie from Melbourne, hi Tim! 🙂 He was thru-hiking southbound while writing an article about the trail, so if Kungsleden is flooded by Aussies next year, blame it on him.
We planned on hiking another 3 km to a windbreak on lake Iraft. While we could not find the windbreak we found another sweet spot right on the lake. We had dinner and beer watching the sun setting talking about life. Nice! More evenings like this please!
My left knee started acting up towards the end of the day. A sharp pain in the front below the kneecap randomly at varying intervals… This was a new kind of pain as far as my knees go. I hope it will be better tomorrow. Seems everyday brings a new kind o pain… I call it the daily ache as it usually only lasts a day but this one has me a little worried… Otherwise my body feels strong!
Woke to a soaking wet tent! Again! Dripping condensation from the ceiling… The sleeping bag was really damp all over. Dammit! I have had big problem with condensation every day since temperatures dropped, but this was the worse so far. It does not help that the tent is so small that the sleeping bag pretty much touches the sides as well as foot on the tent walls. Granted, I was camped no more than a meter away from the lake here and during the night apparently the wind changed direction. It was now blowing humid air straight into my tent, not ideal conditions… plus it was really cold! I could see my breath exhaling this morning. No wonder I had been a bit cold last night despite sleeping in my thermals.
I tried to dry out the tent somewhat in the morning sun, did alright. Tried to dry the sleeping bag too best I could. Still a little "deflated" but not soaking wet anymore at least. I really need to get a handle on this condensation problem! I already open the outer tent as much as I can under the rain flap and keep a large part of the inner door open too (with just the bug netting closed) for airflow. I don't dry clothes inside anymore and keep everything in drybags. Tonight I will open the inner door all the way and see if that helps. Not sure what more I can do, a bit worrisome.
It was going to be a rather uneventful day, aside from passing through Adolphström where we stopped for a fika. My friend had a coffee (of course) and I opted for an ice cream. The sun was shining and it actually felt like summer for a change. Nice! My left knee is bothering me but I am trying to stretch it out, fingers crossed! Next we settled in for the tedious climb up and out of town through endless birch forests. In fact, that would be a good summation of todays stage – birch! We pretty much walked in a tunnel of birch trees all day. Finally, at the very end of the day we got back up above the tree line and found a very nice campsite on kalfjället by a lake just north of Pieljekaise mountain.
We ate dinner together before the cool wind drove us into our respective tents. It is only about 10C during the days now and temperatures really plummets once the sun goes down. It has been a very cold week! Hard to believe it is only the beginning of August. We might both need to supplement with warmer clothes before long. We should get into town early tomorrow but I don't think there is anywhere to buy gear there. We have no plans to stay, so we'll just pick up our resupply box and head back out again.
Final day of stage 2. We walked in to Jäckvik just before lunch after a rather steep descent from the plateau where we slept last last night. Another very cold night! Even had some frost on the shade side of the tents this morning. I will need to start sleeping with my phone inside the sleeping bag as the cold drains the battery, it was down to 10% this morning. The sun was shining now though and Jäckvik greeted us with a really nice day!
We picked up our resupply box at the local grocery store then went over to the hostel run by the church beautifully located on the lake. We thought they might serve coffee and have a place where we could repack our supplies. They didn't. Once there though we decided to get a room for the night instead of pushing on. We are one day ahead of schedule after all, and my knee is not doing too good and could use a light day and a good nights rest. The rest of the day went on routine, a shower, laundry and the social media duties. Tomorrow we're off towards Kvikkjokk.