WHERE: Mount Richmond Forest Park – South Island, New Zealand
WHEN: January, 2018
WHO: Karma & Scott + Elle & Glenn
OBJECTIVE: The Old Man hut circuit, a weekend alpine tramp with friends
Lake Chalice carpark to Old Man hut and back, a 30 km loop.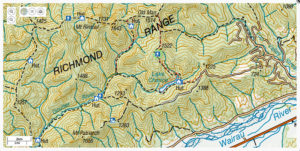 We absolutely love the Richmond Range! It offers some of the most remote and spectacular alpine terrain and endless ridgewalks with 360 views that New Zealand has to offer. This place sure made an impression on me last year and it sure did not disappoint this time around either!
So it was naturally the first choice when we wanted to take our friends out for the weekend in the mountains. This being their first alpine tramp, we wanted to make sure they got to experience a truly magical time, and I really think it was. After a week of rain there was not a cloud in the sky, almost too nice with temperatures near 30 degrees (C) and no breeze to speak of, but who's complaining? We had a great time and summited two peaks over 1500 m. Not bad for a first time out!
Chalice Knob 1522 m
The trailhead for this loop track is at beautiful Lake Chalice, the only lake in Richmond Forest Park. We drove up Staircase Road for about 18 km. Up, up and up into the mountains. Quite nice, since last time we were up in this area we walked all the way up from the bottom, and this was cutting at least 800 meters of elevation from the hike this time around. From the Staircase Road carpark, the track first drops down to Lake Chalice and then climbs steadily upward onto Chalice Knob at 1522 meters. The summit breaks the bushline and provides stunning 360 views of the surrounding mountains. Mmmm this is why we do this! Looove being up here!
Old Man 1514 m
Next, the route drops down back down a spur onto a saddle connecting Chalice Knob with Old Man, then climbs back up to the summit at 1514 meters. Again with stunning views in all directions. From Old Man awaited an impressive ridge walk west along the spine of the Richmond Range. I have actually walked this ridgeline before as this section is part of Te Araroa. Last time I continued up and over the Mount Rintoul peaks (yes plural), but our objective for this mission was the Old Man hut nestled in a high valley just below the ridge at the base of the smaller of the Rintoul peaks.
A rather quick drop down from the ridge through magical mountain beech forest brought us to the small 5 bunk standard hut. Glad we brought our tent. There were quite a few hikers there already and the hut was filling up fast. Turns out six of the hikers at the hut were Swedes and from my hometown no less! Small world! They were thru-hiking Te Araroa, but the south island only so this was their introduction to New Zealand mountains. A tall order if you are not trail-fit yet… I had already been on trial for two months by the time I got here on my thru-hike last year, and I was happy for it. I never saw these many hikers in the same place though, but they told me the numbers had doubled or quadrupled from last year. Crazy. As nice as it was to meet them all, I am so happy I did this trail before it got so crowded.
We had a great evening with Elle and Glenn at the hut. Cooking good food and hanging out, and mostly enjoying the peace and quiet in the mountains. This is why Scott and I love the mountains so much, and this is what our friends had been seeking. I really hope they felt the same magic that we do in this place!
Walking out
I felt a tinge of jealousy when I saw the Te Araroa hikers carry on the next morning though… well, I will be back on trail soon too! Instead of climbing back up to the ridge, we were heading back out. Descending steeply from the hut down to the Goulter River we followed it all the way back to Lake Chalice. It was really hot and sweaty despite walking in the shade of the bush for the better part of the day. So when we finally reached the lake we stopped for a swim to cool off a bit before the final climb back up to the vans.
Quite a physical ending climbing back up to Staircase Road again mind you… 2.6 km steadily uphill… in 30-degree heat. A bit of a mind game really. Trying not to expect to see the van around the turn of every bend… lol… but eventually, we got there. Well, by tomorrow all we will remember is the phenomenal views from the mountains. Funny how the mind works.
This is where the story could have ended. A fond farewell at the trailhead as we each get into our vans to drive home. But a flat tire on the way out, not ours this time, made time for another coffee. Ah… the typical van meets New Zealand backcountry roads story… gotta be prepared for it.