Walking the world

Country: Netherlands
Continent: Europe
Route: Bad Nieuweschans – Hook of Holland
When: 5-19 December 2019
Season: winter
Distance: 361 km (3899 in total)
Summary
Obviously it is not the ideal season to visit the land of tulips, cheese and flower markets… but we did our best to enjoy the scenery in the cold rain and driving wind.
A few observations. Yes, everybody rides bikes here, they look at us walkers as a nuisance. Yes, it really is as flat as they say. We have actually been walking several meters below sea level and the expansive canal- and water management system here is impressive. We have walked through beautiful old villages lining these canals and massive farmlands with fields that continue for miles on end. We have also learned to love 'stroopwafels' as they are more calorie dense and a lot cheaper than muesli bars for hiker fuel…
There is a few noticeable differences as you pass from east to west through the Netherlands too. The spoken accents change and most of the lands we walk on are actually new land reclaimed from the sea, more so than in the east. We move from rural farmlands into large metropolitan areas such as the iconic capital of Amsterdam and the booming city of Rotterdam. We are welcomed into the homes of several trail angels along the way too. This is something we truly appreciate since it gives us a chance to meet wonderful people and experience true Dutch culture and hospitality — as well as a warm bed, hot shower and laundry of course… thanks a million guys!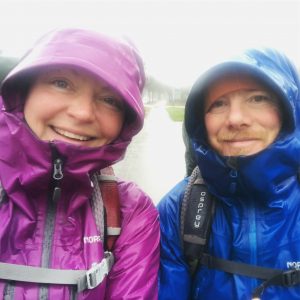 Trail description
Terrain
Crossing over the border we enter into vast farmland. We naturally walk on the safe cycle paths that are positioned a metre or so off the road. The Netherlands has a huge cycle path network, not just in the big cities but connecting small villages and other cities together over large distances. These are our main form of travel.
We jump on the Pionierspad, a 200km trail from Steenwijk to (almost) Amsterdam made up of forest trails, footpaths, country roads and cycle paths. It took us through expansive canal and drainage systems, passing through beautiful canal villages, walking across old and new land developed using dikes.
Exploring Amsterdam, Rotterdam and other metropolitan areas we finally make the last long walk down the edge of the Nieuwe Maas river to the port at Hook of Holland for our ferry over to the UK.
Gaia GPS
The route
Trails and paths and resources used to create our route through the Netherlands:

Trail journal
Day 161: Noordbroek
Distance: (13+26) 39 km (3525 km total)
Weather: sun/overcast
We crossed over into the Netherlands today! Camped up 26 km from the Bad Nieuweschans border at Noordbroek. Marking 3538 km at the border.
Netherlands… our 5:th country so far. Things did mot change much, except even flatter and more insanely huge fields of nothingness. Since all the fields are resting for winter it feels really desolate and void of life. Also makes finding stealthy camp spits tricky. Another few things we learned about our new country… cash really is king. Not even the grocery stores takes Visa cards… also, no mobile service—at all?! At least not until we finally ran into a tower about 30 km from the border…
Day 162: Lettelbert
Distance: 36 km (3561 km total)
Weather: overcast, rain and windy
A windy and very cold day in the Netherlands today! A quick stop in Groningen introduced us to the famed NL bicycle culture. Very cool! With rain forecasted overnight we are camped up in a bird observation tower(!) .., very windy up here but hopefully a bit drier. You take what you can get…
Day 163: Marum
Distance: 12 km (3573 km total)
Weather: rain
After a rainy and stormy night—and with more to come—we walked into the little village of Marum where two wonderful trail angels were waiting for us! Hot shower, warm bed, amazing food, great company!! Thank you sooo much Anna & Frits, we miss you already!
Day 164: Wijnjewoude
Distance: 20 km (3593 km total)
Weather: overcast cold and windy
We actually camped up while there was still daylight today! A nice change. Can't wait for the return of the sun!
Day 165: Doldersum
Distance: 22 km (3615 km total)
Weather: overcast cold and windy
Had a sleep-in this morning waiting for the rain to stop before packing up. Another day walking through the flat Dutch countryside. It can be quite windy here and hard to find shelter. We found an epic sheltered spot last night though and scored another one tonight. Sweet!
Day 166: Nijeveen
Distance: 26 km (3641 km total)
Weather: overcast cold and windy
After an eventful night of thunder and hail, we woke to clear skies and actually saw the sun until lunch when the next rainstorm rolled in. We started a new trail this evening too, one we intend to thu-hike (walk from start to finish) just for the fun of it. It is called the Pionierspad and started in Steenwijk and will take us almost the way to Amsterdam, 200km. We are camped pretty much in the middle of a huge field along the drainage waterway, hoping to "blend in"… not the stealthiest spot.
Day 167: Blokzijl
Distance: 23 km (3664 km total) Blokzijl
Weather: sun with clouds, windy
We had a lovely day of walking through old historical canal villages, one after the other. The sun even came out for a bit, even though it was still quite windy. We were aiming for Blokzijl where two wonderful trail angels were waiting for us. They have followed our journey from the very beginning and we were very excited to finally meet! Thank you so much for your hospitality Anneke and Egbert!
Day 168: Schokland
Distance: 30 km (3694 km total)
Weather: overcast and hazy
Back on trail again following the Pionierspad. The trail mostly follow bike paths or roads along the extensive canal and drainage network. It cuts through rural villages and vast farmlands with the occasional short visit in forested nature reserves along the way. Tonight we are camped up in a small bird observation shelter on the former island, so called "old land", of Schokland. I think we share it with an owl!
Day 169: Lelystad
Distance: 40 km (3734 km total)
Weather: sun, windy and cold
A beautiful sunny day, but quite cold and windy. We managed to find a pretty sheltered spot that won't flood with all the rain that is forecast overnight—and all day tomorrow…
Day 170: Almere
Distance: 20 km (3754 km total)
Weather: rain
Slept in this morning. Took our time with the morning coffee, listening to the rain on the tent fly. A light but persistent rain that would keep up—all day! We sought refuge under a bridge for lunch. Thankful to find any shelter at all on this stretch. We are making good time though… we will get to Amsterdam in the next day or two.
Day 171: Diemen
Distance: 27 km (3781 km total)
Weather: rain
Took a couple of hours off in Almere to wait out the worst of the rain. Got a few missing pieces of gear sorted, like liner gloves to insulate the ones we have better for winter and some new socks. Stealth camped just 4km from Amsterdam, lined up for exploring the city tomorrow. Weather forecast is promising a nice day! But first, another rain storm to pass overnight…
Day 172: Amsterdam
Distance: 20 km (3801 km total)
Weather: overcast, some rain showers
We had a lovely day strolling through Amsterdam! A highlight was definitely the falafel lunch at Maoz Vegan. Mmm… Camped up just a few km outside the city center. Nice and peaceful if it wasn't directly under the flightpath to Schiphol…
Day 173: Alphen aan den Rijn
Distance: 30 km (3831 km total)
Weather: overcast, rain in the evening
Woke up to a fairly busy park, so we packed up and walked a bit before we stopped for coffee and breakfast, watching the row teams practice on the canal. We managed to dodge the rain all day and pitched juuuuust as it started. We're expecting quite a bit of rain over night bu nice tomorrow. Fingers crossed. Just a few more days left in the Netherlands now.
Day 174: Bergschenhoek
Distance: 28 km (3859 km total)
Weather: overcast, rain in the evening
Making our way towards Rotterdam. Camped in the outskirts of the city tonight. Found the only "hill" in NL. All of 50 meters tall… maybe?! They put in some mountain bike trails and apparently you can ski off it somehow too. Maybe we'll see that tomorrow? Made it to camp just as the rain started. Always nice when you can pitch dry.
Day 175: Schiedam
Distance: 20 km (3879 km total)
Weather: sun with clouds
Our last night in the Netherlands we were invited to stay with a wonderful trail angel family in Schiedam! Such a nice treat! Thanks a million guys! It was so nice to meet you!!
Day 176: Hook of Holland
Distance: 20 km (3899 km total)
Weather: overcast
We got an early start and made it to the ferry to the UK from the Hook of Holland. A long walk through the industrial district with petroleum and chemical facilities lining the bikepath along the river.