Walking the world

Country: UK
Continent: Europe
Route: Harwich – Plymouth
When: 19 December 2019 – 2 February 2020
Season: winter
Distance: 544 km (4443 in total)
Summary
Hiking through the UK in winter. From wet and muddy footpaths through the English countryside, to a visit to Kew gardens in London, and a long walk on the Coastal trail along the the beautiful Jurassic coast in the south. This is the 6th country on our expedition, and we have been on trail for over half a year now!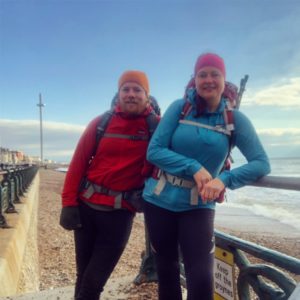 Trail description
From the ferry port of Harwich we make our way directly to the first trailhead of the Essex way. Our initial impression of the trail and of what was to come was good, but the reality was mud, mud, mud and road walks trapped by hedge rows either side. The drainage was lacking to say the least and we often found whole roads flooded.
Once we crossed the river Thames heading to Brighton on the south west coast everything became a little dryer. But the trails were still mostly mud, and the decision to attempt to navigate through them became a daily task. The beautiful rolling hills, small villages and the occasional sunny warm day lifted moral.
The south west coast was stunning with fantastic sunsets and manageable trails running above beautiful cliff tops overlooking the English Channel. We could only imagine how incredible it would be in summer months.
It was fantastic to have been able to follow the south west coastal trail as far as we did. We wished we had time to do more, but are proud of what we achieved in these winter mouths.
Gaia GPS
The route
Trails and paths and resources used to create our route through the UK:

Trail journal
THE UK (part 1)
We arrived at the port of Harwich and started making our way south. Our initial impression, walking through Essex county, was not the best. We were really taken aback by the amount of rubbish lining the roads. Quite a stark contrast to where we just came from. Once we crossed the river Thames into Kent county, things improved and we started to really enjoy the charming cottage villages and rolling hillsides of the English countryside.
We are heading for the south coast next and we are looking forward to the seaside villages, white cliffs and catching up with friends along the way. The UK is the 6th country on our long hike from Norway to New Zealand and we just celebrated 6 months on trail yesterday!
THE UK (part 2) — A visit to Kew Gardens
We walked into Brighton just as the year was coming to an end. We planned to take a break here for a few days to celebrate the new year and meet up with friends. But we also felt the need for some time to reflect on the journey so far and how far we have actually come! We have been on trail for 6 months now, and that is longer than we have been out continuously before. So this is new, and we just realized that in order to mentally be able to process everything and better appreciate each day of this momentous journey, we need to create moments of pause. Allow some space for reflection, and also remember to celebrate the smaller milestones and accomplishments along the way. So we did just that for ourselves in Brighton. Another thing that dawned on us is… so yeah we are out on this amazing expedition, but it is so much than "just" another long-distance hike. This is also our life for more than half a decade! So we really want to approach this with a much broader scope and an open mind. So when we received an invitation from a friend who works at Kew Gardens in London, we leapt at the chance!
A little backstory is probably needed here… Scott has a background in organic horticulture and permaculture and has a general interest in how plants grow and work together. Karma is an orchid nerd at heart and once created an entire microclimate for cloud forest orchids in a glass vivaria, growing a few hundred miniature species in her apartment in Sweden. (A peak into that world herehere. ) So a visit to one of the finest botanical gardens in the world would a rare treat for us both!
We hopped on the train to London and spent a couple of days exploring the gardens in great company! Even though this is not the best time of the year for a visit, the sheer size and vast collections in the historic greenhouses was quite impressive! As was a private tour of the massive herbarium where a collection of seven million (!) preserved plant specimens are stored, catalogued, and arranged systematically for study. It was an interesting experience to say the least, to walk the same halls as Darwin once did… one could easily imagine the discussions on how one species differs from another… or perhaps the debates on whether a specimen might be new to science all together. But the true highlight was the chance to go behind the scenes into the extensive orchid nurseries not open to the public! What a beautiful and diverse collection of plants, all with their unique characteristics and fascinating pollination stories. Orchids is not only one of the largest families of flowering plants in the world, they also grow on almost every continent. So we will keep an eye out for orchids as we continue our walk across the world—the perfect side story to our big expedition.
Truly inspired and with a head full of botanical pondering, we took the train back down to Brighton to resume our journey south on foot.
THE UK (part 3)
We really like Brighton. It has a roughness mixed in with a realy relaxed, fun and quirky vibe. We reluctantly left, after our short holiday break, continuing down the coast. We were looking forward to the change of scenery and were not disappointed. The beaches here are lovely, especially now in the offseason when they are quite peaceful and serving up stunning sunsets. The tourist infrastructure of regular public toilets and drinking fountains also makes things a bit more convenient for us. One thing we had not counted on though was all the annoying waterways to navigate around along the coast, sometimes taking us on several kilometer-long detours to find bridges. You don't really see that until you start zooming in on the map as you walk through. And once you leave the coast, things start to get really wet. Trails and public footpaths are really muddy and it is flooded just about everywhere making it impossible to keep feet dry and tricky to find dry camp spots.
Wild camping has been straight forward, so far though. It is fairly easy to hide from people, but what usually blows our cover are dogs—and everyone has a dog here it seems! Few take much notice of us though and we always make sure to leave no trace. Scott has been sleeping a bit rough this week though due to a sleeping mat failure that is taking some time to resolve. The ground is cold in winter! There is a new mat on its way though, thanks Therm-a-Rest!
While there has been a lot of storms lately, we are still feeling rather lucky about the weather. We have been chased by winter since we started this expedition and so far we have done alright, keeping one step ahead. Hope our luck holds!
THE UK (part 4)
We picked up the South West Coastal Path just as we left Bournemouth. This national trail is the longest waymarked footpath in England and follows the coast from Poole to Minehead. We will follow it along the famous Jurassic Coast as far as Plymouth where we ferry back to the European mainland. The trail offers really spectacular views when the weather allows. We were lucky enough to enjoy the dramatic chalk formations at Old Harry Rocks on a beautiful sunny day—and what a difference it makes!
In Swanage, we met up with a wonderful trail angel who treated us to a well-needed break (read: shower and laundry) and great company! Thank you! Next, we had to detour inland around a military restricted zone as they had closed off a large part of the coast for training exercises. So we walked down picturesque country lanes lined with quaint cottages and medieval castles to the sound of machine guns and heavy artillery blasts. Bizarre and a bit unnerving.
Well back down to the coast the landscape started to become a bit more hilly. We have barely even seen a hill since we left Sweden so this new climbing was a wakeup call for some dormant leg muscles, lol. The weather has behaved for the past week, but the trails and paths are still hopelessly muddy and slippery. While the scenery is beautiful the terrain is not really ideal for winter travel.
We are excited to head over to France in another week were we will get a new coastline to explore.
THE UK (part 5)
The weather has been a bit stormy the past week, and Karma has been battling a chest cold, so we have taken it a bit easy. Taking a zero in the tent in Sidmouth and another day off with wonderful trail angels in Christow to dry out and rest up a bit. We had originally planned to go through Dartmoor, but given the current weather conditions we decided to aim for a more direct route to Plymouth instead where the plan all along had been to take a ferry over to Roscoff in France. But sometimes things just don't go according to plan… For some reason this particular ferry is not sailing—at all—for the next two weeks?! What!?! After a minor meltdown we popped into a café in the tiny village of South Brent to drown our disappointment in coffee and come up with a plan B. So the new plan is to backtrack up the coast (by bus) to Portsmouth, where we walked through 3 weeks ago(!), and take the ferry to St Malo instead. On a positive note, we are overheard by some locals in the café who invite us home for the night, and helped with the post office logistics in Plymouth today. Legends! So after a few housekeeping chores in Plymouth, a post office run and picking up new shoes, we will take the overnight bus to Portsmouth tomorrow. New shoes,… mmm what a feeling! Not only have they carried us all the way from Sweden (1500 km) so they were simply worn out. It was truly amazing to also shed the eternal mud baked into them after six weeks of winter hiking through the UK before leaving—giving France a fresh new start!