WHERE: Kerikeri to Pakiri Beach – North Island, New Zealand
WHEN: December, 2016
WHO: Karma
OBJECTIVE: Te Araroa thru-hike
DISTANCE: 220.1 – 476.0 km
God jul, merry xmas and happy holidays – with lots of love from Te Araroa! (Pataua North)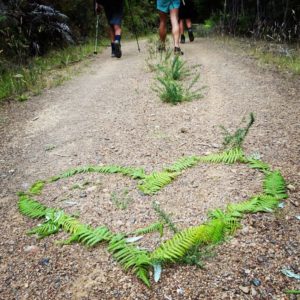 After leaving Kerikeri I walked a looong day to Opua (33.2 km) where I was invited to stay at a wonderful house overlooking the bay. I also met some lovely trail angels serving up treats and refreshments to sweaty dirty trampers along the road on Christmas Day, unbelievable!
The forest march last stage had brought me over to the east coast of the North Island, so much of this past week has been beautiful coastal tracks and many many more kilometers on gorgeous but at times mentally (and physically) demanding sandy beaches and salt water fords. I can now add an unsuccessful attempt to get through the Taiharuru Estuary at the wrong tide to the experience list as well… had to take the long way around on the roads instead. Not recommended…
After a 9 km warmup walk down Ocean Beach the next day waited the climb up Bream Head, a 490 meter volcanic promontory with rocky spires and stunning panoramic views from the summit. A really hard and sweaty climb and slight vertigo from the lookout, but well worth it. Good thing I hike alone, you could not fit more than a couple of people up there at a time. Beautiful. Sweaty. Awe inspiring. Exhausting. All feelings at once sums it up pretty much. Amazing!
I stayed a night at the backpackers hostel in Mangawhai Heads, mainly because I really needed to wash clothes and a shower was nice too! My feet have swollen up so much that I cannot wear my trail runners anymore(!), despite them being 1.5 sizes larger than I normally wear. So I walked the first day of this stage in my sandals then hitched a ride back to Kerikeri and bought new shoes. Even though the track was fairly easy it was too far to go in sandals… so I have some problems with my left leg now… dammit. Walking the past week in pain I finally went to the clinic yesterday and I was prescribed rest and anti-inflammatory meds. So I am camped at Pakiri Beach for 3 nights resting my leg and hoping for a miracle…
Other than that I feel great!!! Hard to see my trail family from the past couple of weeks continue without me this morning, but that's life. I hope to be back on trail soon.