We start our epic expedition with a journey through Scandinavia in just a few short days! We start at the very northern tip, in North Cape (Norwegian: Nordkapp), and follow the Scandinavian mountain range south. Bouncing back and forth between Norway, Finland, and Sweden along the way and exiting onto continental Europe via Denmark. We plan to follow the E1 European Long Distance Path for this section, before jumping on the E9 path once we hit Germany.
Our expedition gear
On an expedition like this, one spanning several years, seasons and continents, gear will change depending on the circumstances along the way. This is what we are starting with on day one at North Cape. We will update some of it and also include winter gear before leaving Scandinavia later on this fall.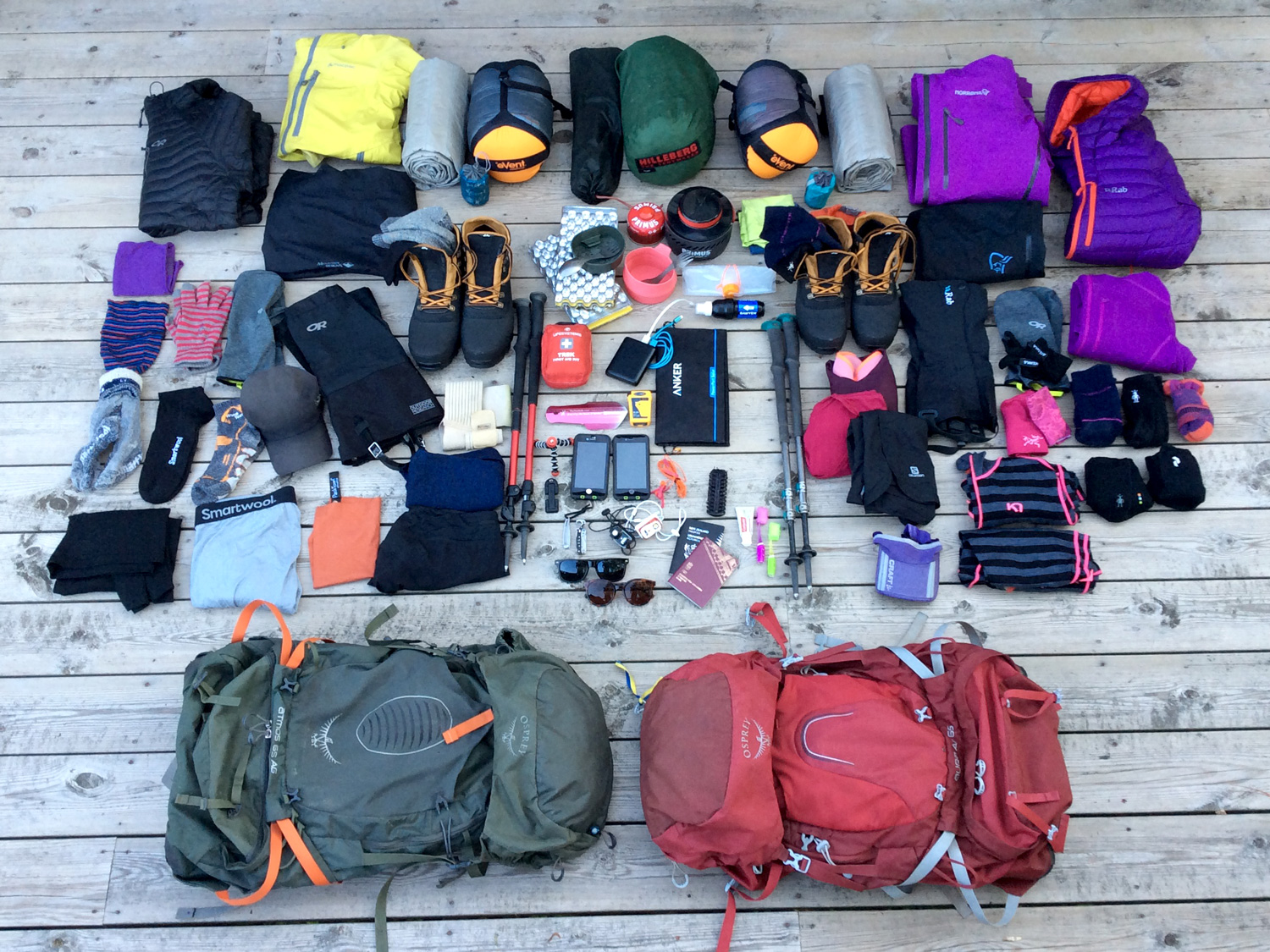 More on the gear in this post
The route – following the E1 European long-distance path
Norway
The path stretches 2.105 km, and holds 60.000 waymarks on either cairns or tree stems all the way, except through Børgefjell National Park; regulations for Børgefjell National Park prohibits waymarkers. To leave the national park you need to catch a ferry The route between Nordkapp and Grövelsjön does in part go in very remote areas with very few shelters and very little service available. Parts of the path are unmarked so you need to find your own route.
Sweden
The route of 1300 km consist mostly of narrow footpaths running through the forested hills of middle Sweden and avoids most population centers. There are not many shops along the route so it may be necessary to plan or go off-route for supplies. The paths are printed on the Swedish topographic maps so special maps or guidebooks are not necessary. Wild camping in Sweden is not only allowed, but it is also a tradition, but mind you, so is leave-no-trace. Look up the amazing "freedom to roam" law (Swedish: allemansrätten), or check out this quick video. The path starts at Grövelsjön (Lake Grövel), which lies near the Norwegian-Swedish border near Idre. It uses a series of connecting established paths down to the city of Varberg, on the coast south of Göteborg, from where the ferry to Grenaa in Denmark sails.
Denmark
The total length of the route in Denmark is 325 km. Camping in the wild is not allowed in Denmark, there are however primitive campsites (Danish: lejrplads) along the route which commonly have room to pitch a few tents, water tap or pump and a simple toilet and are often free to use. The route takes the walker along easy going paths and quiet roads through the rolling Danish landscape. It often visits larger towns so other forms of accommodation are possible and supplies are no problem. You can also use one of the many shelters, which are placed along the route and found on waymarked trail maps.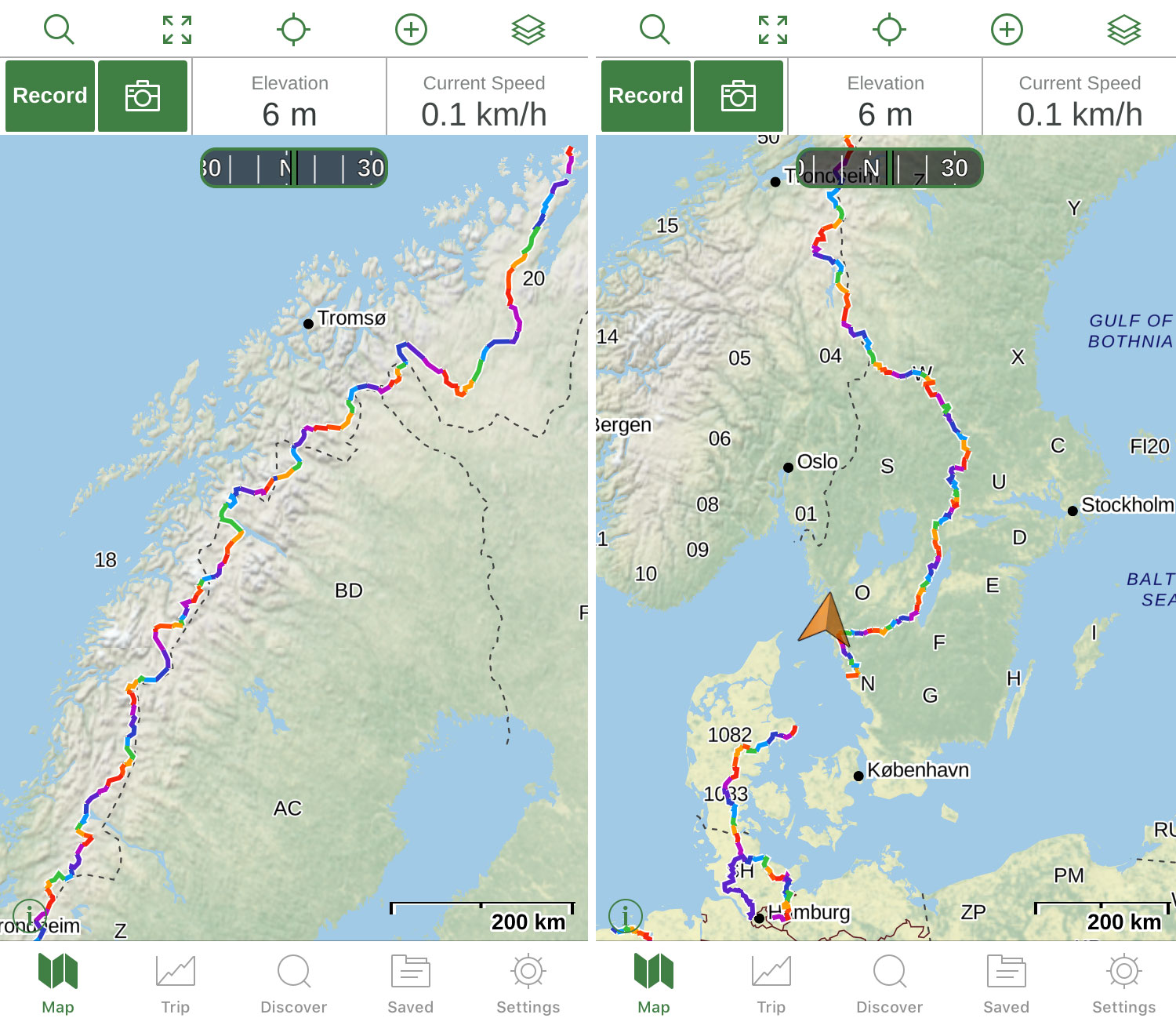 Accommodation
For most of our expedition, except for a few exceptions in Scandinavia, we will live in our tent. We will take a much-needed zero-day in a family cabin in Sälen and stay with family for a couple of nights in Göteborg on our way south. In Norway, we might make use of the extensive cabin network maintained by the Norwegian Trekking Association (in short DNT). Out of the 500 cabins, about 450 of them are self-service or no-service cabins accessible with a DNT-key. Members of the Nordic tourist associations may borrow a key against a deposit of NOK 100, which is refunded upon return. We have borrowed a key but since we have a very limited budget we will only use it in the case of an emergency.
Resupply
Scandinavia is probably one of the most logistically demanding resupply routes, at least in the first two years of this expedition. The distances and sheer remoteness of the trails make for long food carries and in some cases a need to send up resupply boxes to postoffices of mountain station en route.
We will update this information as we go, so stay tuned!