Walking the world

Countries: Norway (1760 km), Finland (90 km), Sweden (1260 km)
Continent: Europe, Scandinavia
Where: The North Cape, Norway to Malmö, Sweden
When: 27 June – 19 November 2019
Seasons: summer and fall
How long: 3110 km
Summary
Scandinavia — what an incredible adventure it has been! The remote wilderness of the far north left the strongest impression on us for sure. From the midnight sun, epic mountains, raging rivers and vast windswept tundra to a helicopter rescue with the Norwegian army!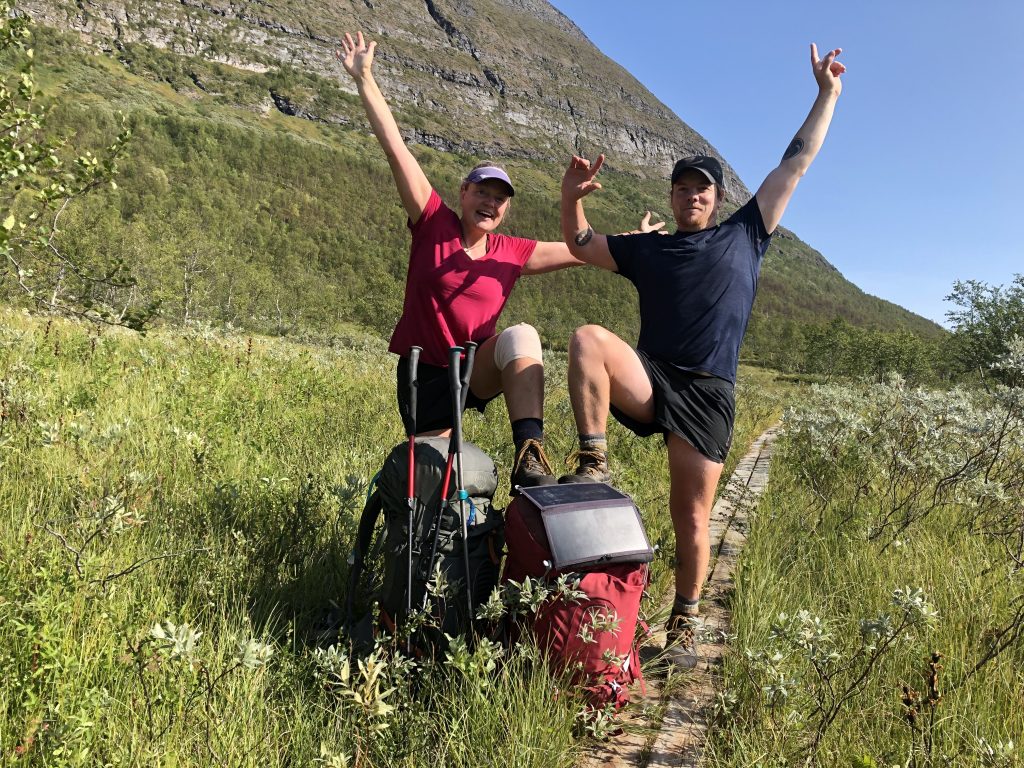 Route planning
We had originally planned to follow the E1 European long distance path, but due to the weather conditions and a slight delay due to injury we had to modify our route somewhat. Things like seasonal ferry services, flooding due to heavy rains, and the seasonal moose hunt affected our route selection quite a bit. But being flexible is part of the game for an expedition of this magnitude and we just roll with it. Loving the unknown. The adventure.
The far north of Scandinavia
In the far north we mostly followed well marked trails with cairns leading through the rolling hills, covered in heather and low growing blueberry and small low sprawling willow. We passed through high mountain passes still covered by spotted snow drifts and surrounded by beautiful icy lakes appearing one after another like a string of pearls. We walked through huge u-shaped valleys dramatically cutting through the vast alpine landscape providing shelter for taller birch trees and wildflowers. In the lower valleys it was usually very wet, muddy and boggy and wetlands filled with mosquitoes was a common occurrence.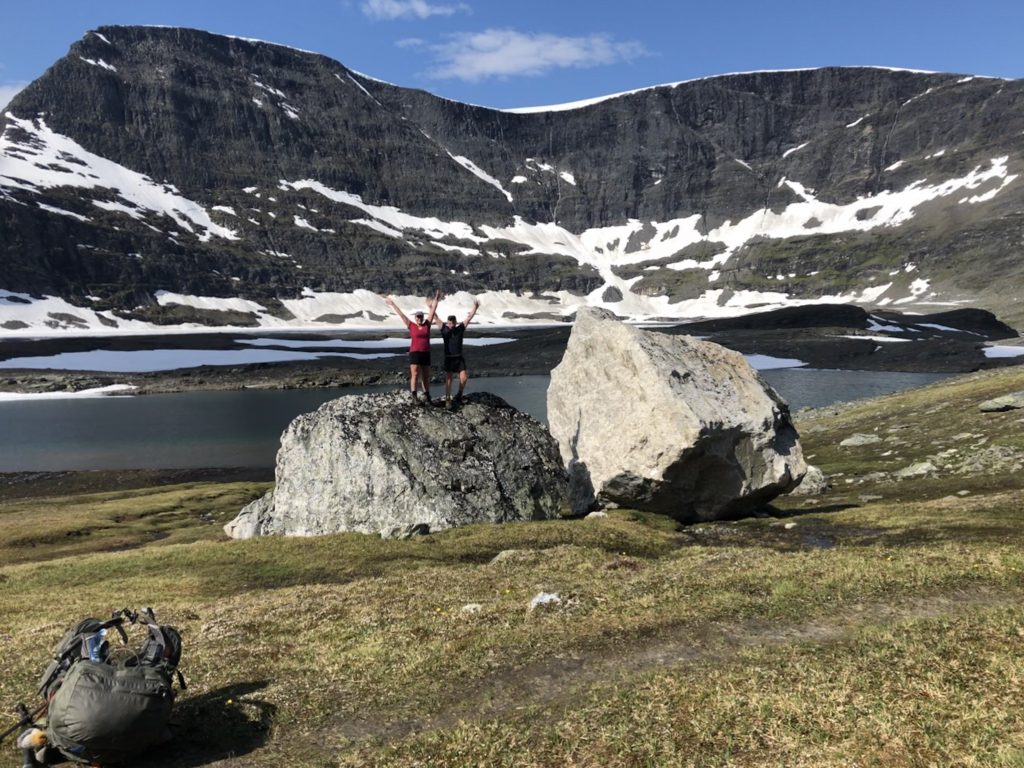 The deep forests of middle Sweden
Once we dropped down to the lowlands deep moss covered forests filled with spruce and pine dominated the landscape. Following old forestry roads we made our way south dodging the moose hunters.
All this soon become a memory as we reached the windswept granite coastline where well marked cycle paths lead us through small towns along the west coast. Coastal salt air became the norm a huge contrast to the fresh mountain air and the pine smells of the forests.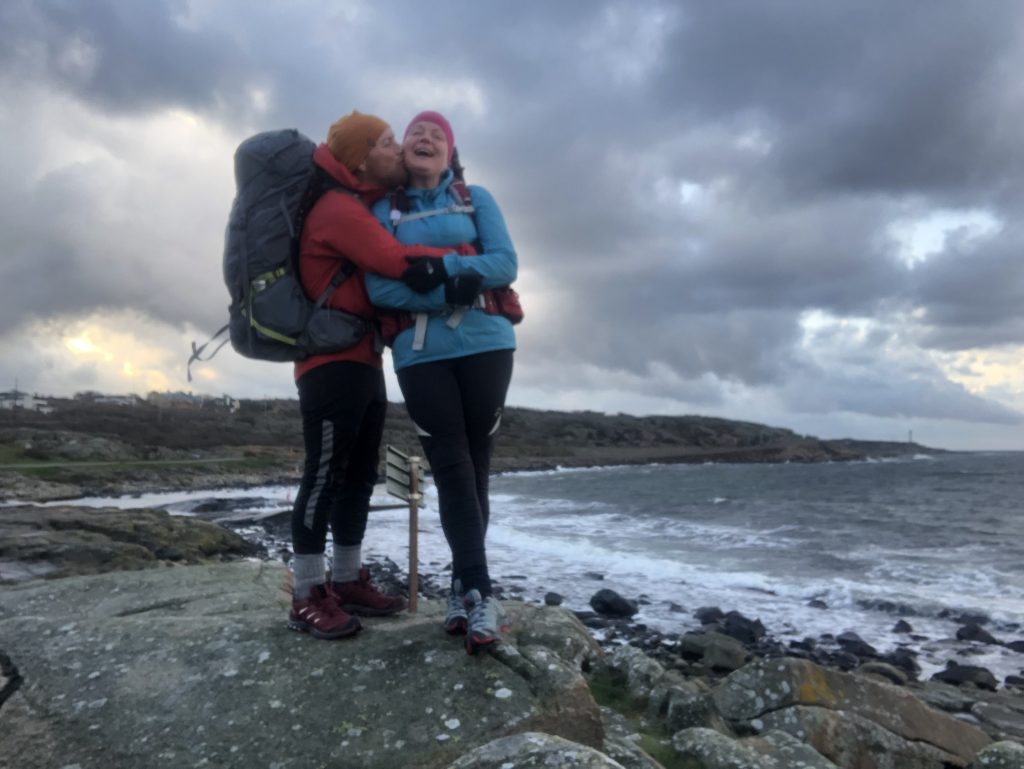 The southern farmlands
Further south we cut through endless fields in the sprawling farm country. Scattered small oak and beech forests break up the monotony and make for pretty good camp spots. Due to visa restrictions we unfortunately have to bypass Denmark all together and instead head to Malmö. Here we  take the ferry directly over to Travemünde in Germany leaving Scandinavia behind.
What an amazing journey! Rich in adventure, wildlife, flora and fauna walking through a breathtaking landscape. We have seen orchids, eagles, falcons, moose, reindeer and tracks from wolverine, arctic fox and more!
One word—unforgettable!!!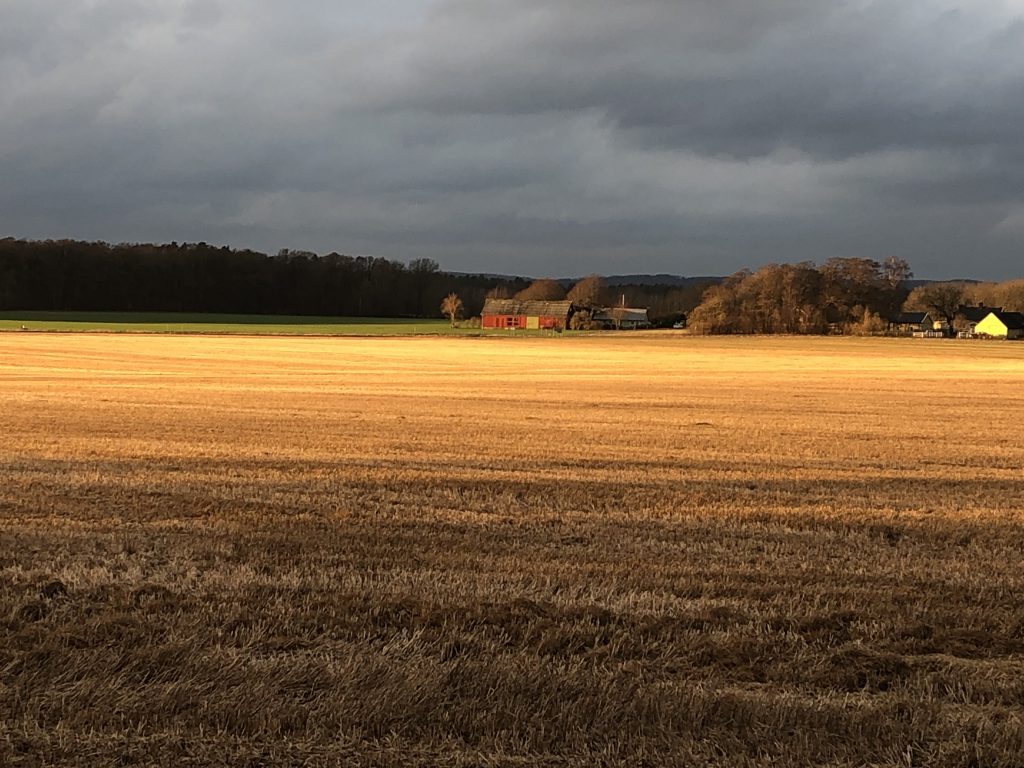 Logistics
Resupply
There is a few aspects we take into consideration when planning our resupply stops. How far off trail is it? How expensive will it be to shop there? Is it more convenient to send a box?
Though Scandinavia we found resupply relatively straightforward with well stocked shops and supermarkets along the whole route. There are only 3 stops we recommend sending boxes to. They are all mountain stations in Sweden: Abisko, Ritsem, and Grövelsjön. The mountain stations have limited supplies and it is also extremely expensive.
We found that we generally resupplied for 3 to 5 days with the exception of a few larger 8 day carrys. All and all it is fairly easy to create a good resupply route through Scandinavia but count on it being pricy. Scandinavia is not cheap! Norway standing out as the most expensive.
We ended up creating our own route through Scandinavia, but here is a link to a post where we share our original resupply plan following the E1 European long distance path.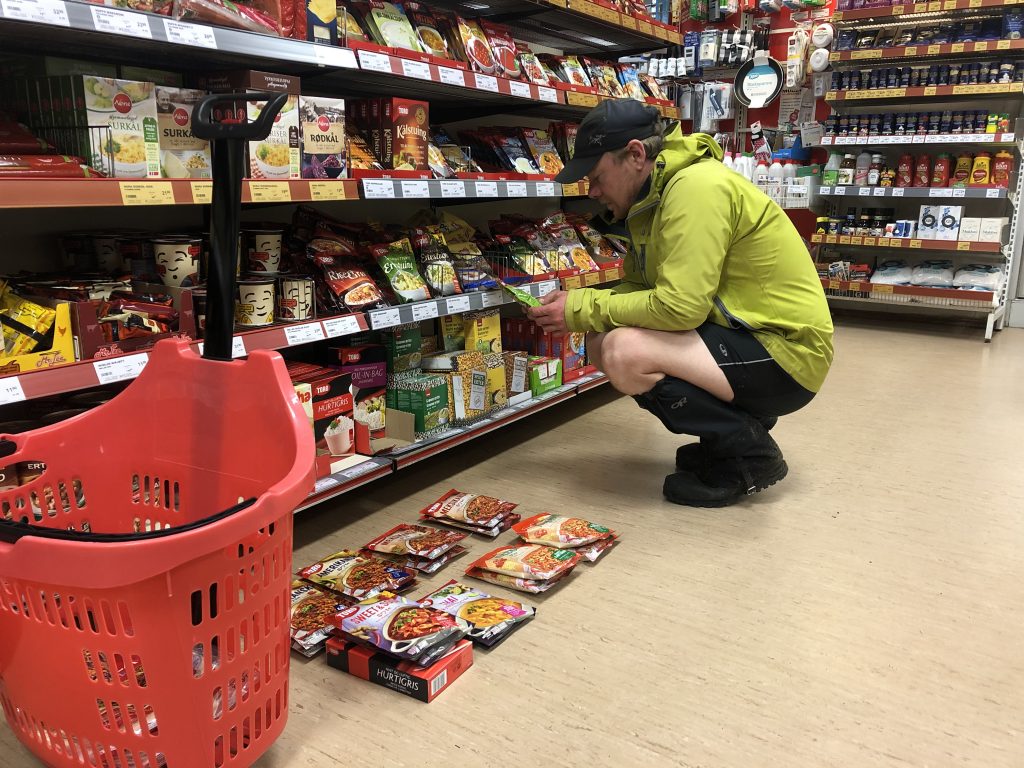 Water
Scandinavia ranks amongst the best in the world for its water quality. Most running water in the mountains of Scandinavia is clean enough to drink without any treatment. Water running through pastures or runoff from glaciers is best to filter to be safe. Tap water is completely safe to drink and tastes great too! Taps with non-potable water are clearly marked.
We only ever filtered water once through Scandinavia, but better safe than sorry when in doubt.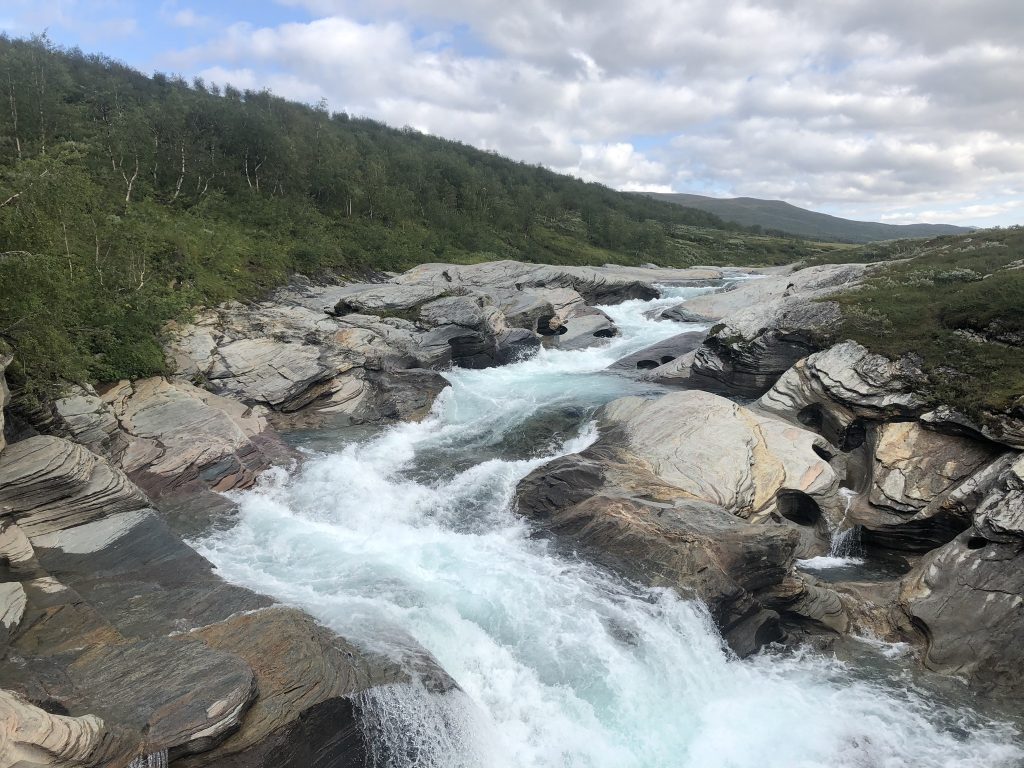 Wild camping
The best thing about wild camping in Norway, Finland and Sweden is that it is completely legal. There is an amazing law called allemansrätten, which means "everyman's right" or the freedom to roam. It grants access rights to public as well as privately owned land including camping up for a night or two. However, with these rights also come responsibilities. The main principles are: do not disturb, do not destroy, and leave no trace.
Along the whole route through Scandinavia we found beautiful and amazing places to camp! It takes a huge burden of worry off the whole trip when you know that pitching your tent isn't illegal.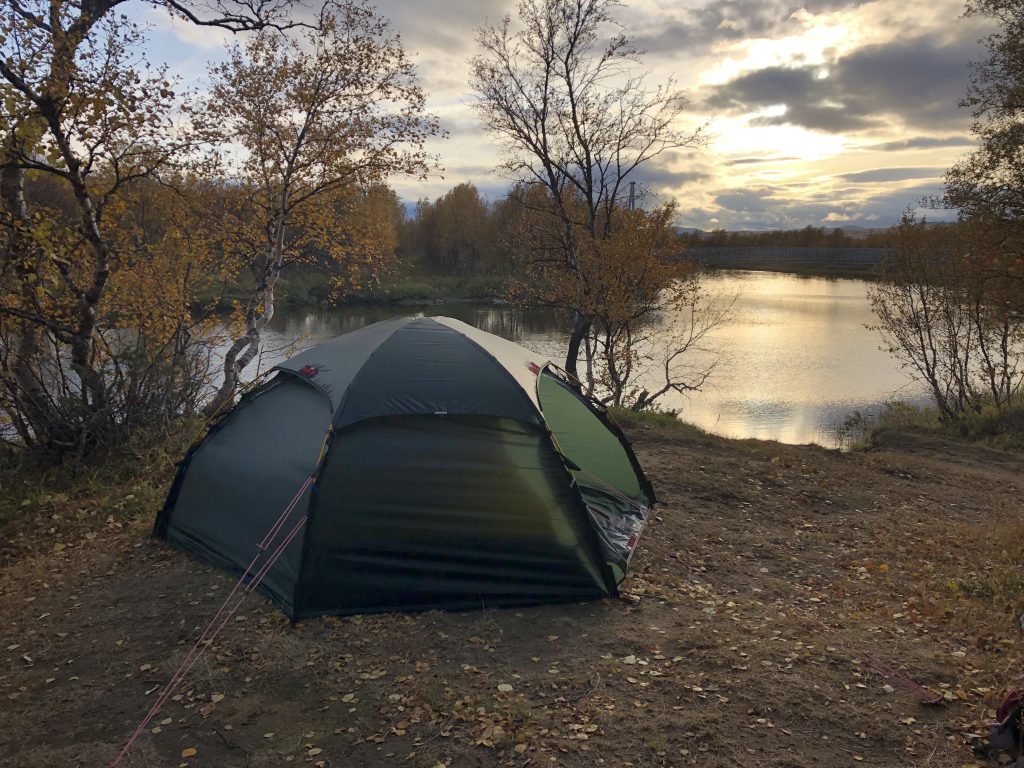 Gear
Since our expedition is ongoing for so many years, and far from home, we have to find a middle ground and carry gear for all seasons. The best way to figure this out was hiking Scandinavia. With its hot insect riddled summer days to its cold mountain nights, from freezing snowy blizzards to windy coastal rain. It was the perfect testing ground to build a pack that would carry us through this first 3 years in Europe, in all seasons and weather conditions.
We are all different in what we are looking for in gear, so when we compare our kits to others it is clear that we have developed our own style. Long-distance hiking is very individual and we love it.
This is what has made the cut so far:
More on the gear in this post
The route
Trails and paths used to create our route through Scandinavia:
Our actual route
Detailed route descriptions
For more detailed information, photos and trail journal from the many individual sections on our hike through Scandinavia, check out these blog posts:
Stay tuned for the next stage of the expedition—a journey down through Western Europe!